What's New for Walls
Explore the latest wall-covering trends and reimagine living spaces with paint, stencils, murals, wallpaper and millwork that provide color, design and depth.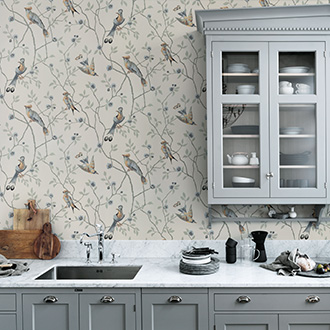 Wallpaper patterns that draw inspiration from yesteryear, such as vintage-style birds, flowers and foliage, are popular choices for farmhouse interiors.

Photograph Courtesy of Rebel Walls, https://rebelwalls.com.
Adding texture to walls has been a main component of Crystal Person's home remodel. In her kitchen, Crystal, from The Grace Infused Life, installed thin brick sheets on the backsplash area and painted them white. For the upper walls, she used a plaster-finish specialty paint that creates a marble-like texture on smooth walls.

Designed and Photographed by Crystal Person of Instagram.com/TheGraceInfused_Life.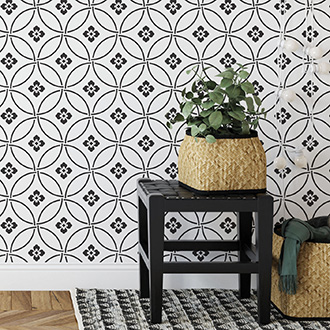 Create a floral motif on your walls with the Louie Flower design from Stencil Revolution, which is striking in black on white, but could be applied with white paint on a colored wall or rendered with multiple colors of flowers. Using stencils, you can customize the colors to suit your space.

Photograph Courtesy of Stencil Revolution, www.StencilRevolution.com.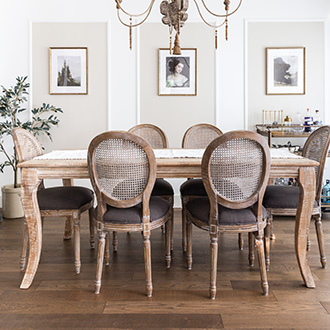 Jamie Lundstrom of the So Much Better with Age blog paired white picture frame molding and neutral paint to give her dining room an elegant update. Jamie shares the full tutorial for installing the molding on her blog.

Designed and Photographed by Jamie Lundstrom of SoMuchBetterWithAge.com
Farmhouses stir romantic notions of whitewashed walls and exposed woodwork. However, history reminds us that even humble homesteads claimed decorated walls. Eighteenth-century itinerant artists crisscrossed the countryside painting folk-art stencils and murals in exchange for room and board, and 19th-century American homeowners were drawn to English and French wallpapers resplendent with flowers, damask designs and pastoral scenes. Through the years, beadboard, chair rails, picture frame molding and other millwork have brought dimension to walls, and some of those looks are returning in today's homes, often with a new twist.
Ever-changing tastes and embellishments have always defined and redefined wall decor. Not surprisingly, the recent pandemic-prompted isolation has caused designers to develop creative solutions for home-based offices, soothing bedroom retreats, and nature-connecting nooks. The marketplace abounds with trends that tap technology and embrace current farmhouse aesthetics.
Paint is the easiest and least expensive way to transform a room's appearance. While light neutrals are still popular, saturated colors that form a semblance of intimacy are today's most sought-after hues. Modern DIYers introduce depth to rooms by painting walls, moldings and ceilings with a trio of complementary colors. Artful combinations can be used to delineate spaces within multifunctional rooms. For example, varied treatments can visually separate a family room into areas for watching television, working remotely and playing games. While high-gloss finishes reign supreme on doors and millwork, satin and eggshell sheens are preferred for walls.
For those who seek more visual dimension, new textured paints, including Roman clay and limewash, now make it possible to create a subtly mottled surface that resembles antique plaster. To add pattern without the expense of wallpaper, allover wall stencils remain a budget-friendly solution. Stencils can create subtle or bold statement walls, depending on pattern and paint color selections. Find wall stencils at home improvement stores or online for less than $50. Experts suggest allowing three to four hours to stencil a single wall, so it's possible to complete an entire room in a weekend. Full-scale geometric, floral and botanical stencils remain top picks. Savvy decorators combine patterns for customized results. If you love to freshen looks every couple of years, simply paint over the stenciled wall.
Another option is wallpaper. But cast aside your installation fears—messy adhesives are no longer required. Wallpaper manufacturers now sell impressive peel-and-stick products as an alternative to traditional offerings. Digital technology has revolution¬ized the industry, and wallpaper truly is a trompe-l'oeil element that can bring the illusion of texture to your home, with patterns that mimic time-tumbled plaster, brick and tiles. Wallpaper murals are trending, too. Decorators are gravitating to murals that depict Zen-like fields, forests and streams in a bid to create relaxing interior environments.
Want to enhance your home's architecture? Consider installing millwork. From classic chair rails to dentil crown molding and beadboard wainscoting, woodwork adds permanent character. Board-and-batten wall panels are synonymous with farmhouse style. However, the spotlight now shines on fretwork panels with three-dimensional geometric patterns that heighten a room's visual interest.
Whichever elements you choose, today's decorative wall-covering options will elevate your surroundings from their blank-canvas status and reveal your personal style.